Avatar SC-5 Biofeedback – EAV-CEDS
Electrodermal Screening
Health Practitioners this site is for you.
If you have been considering using equipment in your clinic to help you get good results, but don't know where to start, you have landed on the right site.
Perhaps you have seriously been seeking the right equipment for some time, and not exactly been able to find what you are looking for?  Then reading on here could really help you.
You may be thinking "Sometimes I am right and sometimes I am wrong.. I would love a clear way to check my protocols that I am considering".
Your intuition may tell you that a certain herb or supplement will be useful for this patient.. but you are not sure.. you would love a way to double check.
You can find what you are looking for here.  We know your health field, and can offer you excellent technology for your clinic, expert training, reliable back up, and on call support – as well as help to get you up and running fast with the best technology on the market – you are at the right site.
We have been in the field of Energy Medicine and Bio-feedback Health Technology for over 15 years.  Here is an unparalleled tool to establish an exceptional niche market for your clinic in Avatar Bio-Feedback Health Testing .
The Avatar Health Testing System – sometimes known as EAV (electro-actupuncture according to Voll) or computerised electrodermal screening – is the perfect tool to assist you arrive quickly at treatment protocols that work.  It is proven equipment for keeping and returning your clients to balance and therefore to a state of health. Read more here…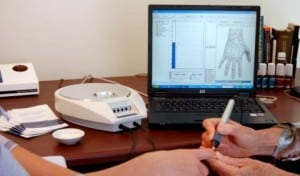 Energy medicine, (the medicine of the future) has already arrived with the Avatar technology.  It's designed for you – the discerning health professional.  And the software is easy to learn – it works just like any of your windows programs.  If you can use Microsoft word you can find your way around Avatar easily.
Not only that – Avatar has a full list of the most commonly used practitioner product lines on the database – so you can test your favourite products (Australian or USA based) right at your desk.
And yes there are a number of instruments like the Avatar Health Screening System on the market.
So what 's the difference with Avatar?
Simply put the Avatar testing is reproducible. A skilled practitioner will get results that are comparable with another skilled practitioner.  If you test now, and then test again in one hour with no intervention that may change the client's body energy, you will see the same readings.  This is not true of many instruments being marketed in this field of energy medicine.  And clearly we need to be able to see reproducibility in order to have trust in our results.
You may also ask why should you seriously consider working with us and not another company. We promise you service over and above what you will find anywhere else. Yes we know everyone says that – but we keep our promises.  With us there is no more confusion and no more worry that you may invest in the wrong thing.  We put YOU at the top of the list – your needs, your training, your support – your assurance that you get the best value for your investment.
And we are practitioners and understand your needs from a practical practitioner point of view.
If you dig just a little deeper into this site you'll soon understand why being able to ask the body – using the Avatar system – is the most versatile tool you can employ in your health practice.  Read what others are saying..
The Avatar is an invaluable tool that saves me lots of time and guesswork.  The results are phenomenal. Vanessa Glenn, Homoeopath